Need some outfit inspiration for this holiday season. Come pick from these 25 perfect Christmas outfits for teenage girls!
These ideas include white, red, green, and neutral outfits for Christmas.
There are also awesome Christmas dresses to choose from that are guaranteed to impress!
No matter what your style is, you'll be sure to find a holiday outfit that matches your preferences.
Let's dive in!
Plaid Red Mini Skirt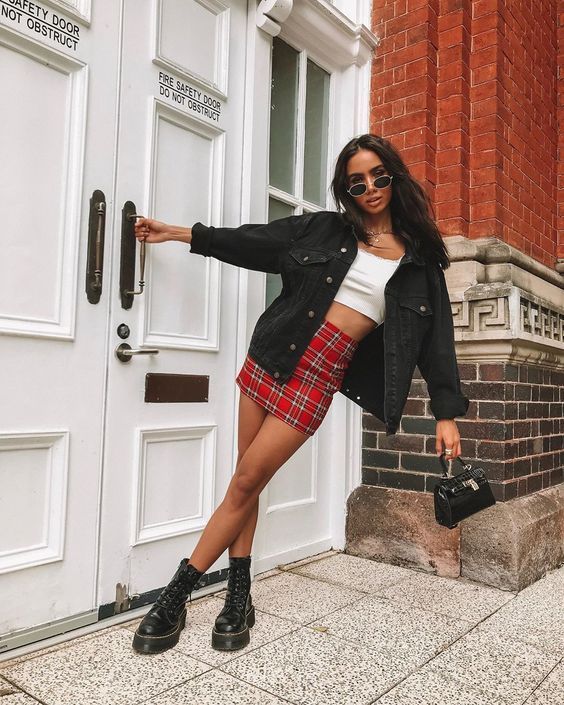 If you're celebrating Christmas in a warmer city, like LA or Miami, then a plaid mini skirt paired with black booties and a denim jacket is a great outfit for Christmas.
This trendy red outfit is easy to put together and perfect for those Pinterest worthy pictures.
Red Knit Sweater Outfit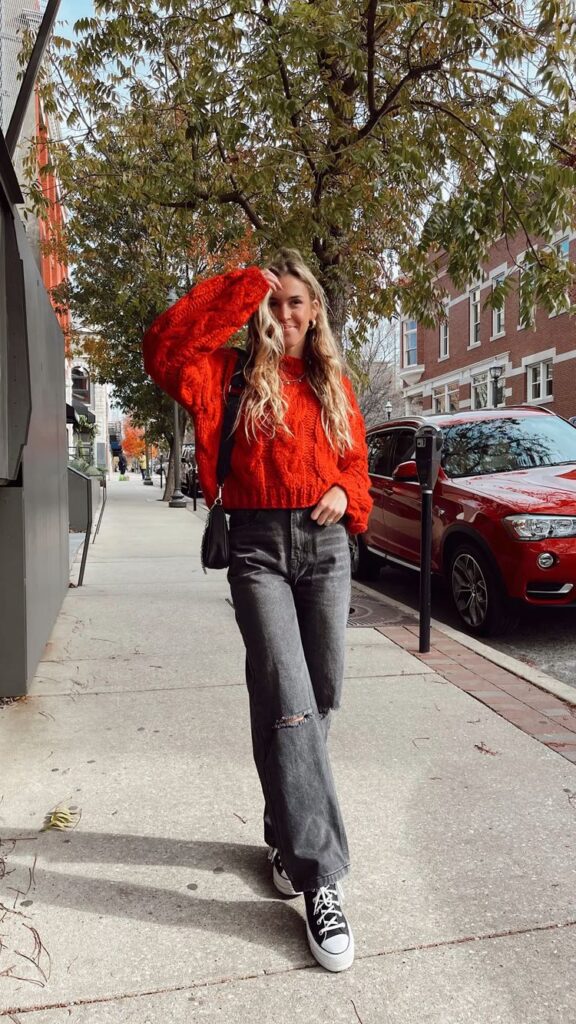 You can't go wrong with a red knit sweater this holiday season, especially when you pair it with a trendy pair of jeans and chunky sneakers.
This Christmas outfit for teenage girls is perfect for colder weather cities who want to be warm while still looking cute.
Related Post: 50 Cute & Trendy Outfits for Teenage Girls
Candy Cane Inspired Outfit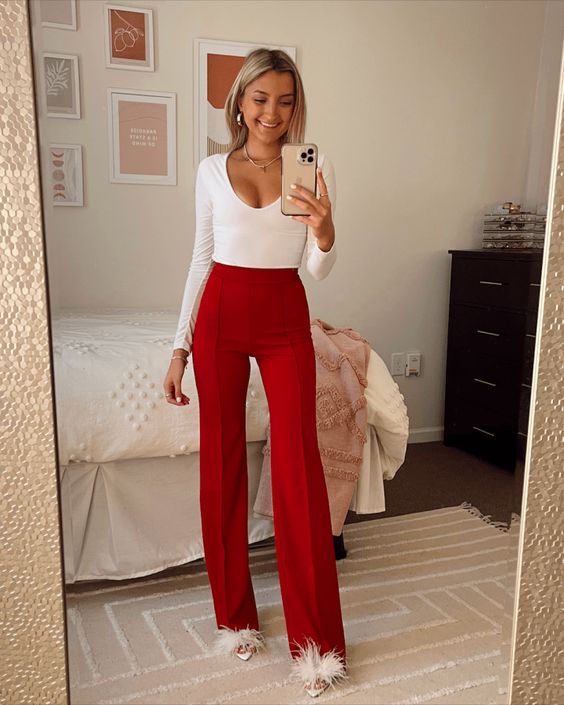 Our favorite Christmas outfits for teenage girls are those that look like our favorite seasonal candies, candy canes!
This outfit is stunning and easy to put together. All you need is a basic white long sleeve, red flared pants, and white shoes of your choice!
Christmas Sweater & Slippers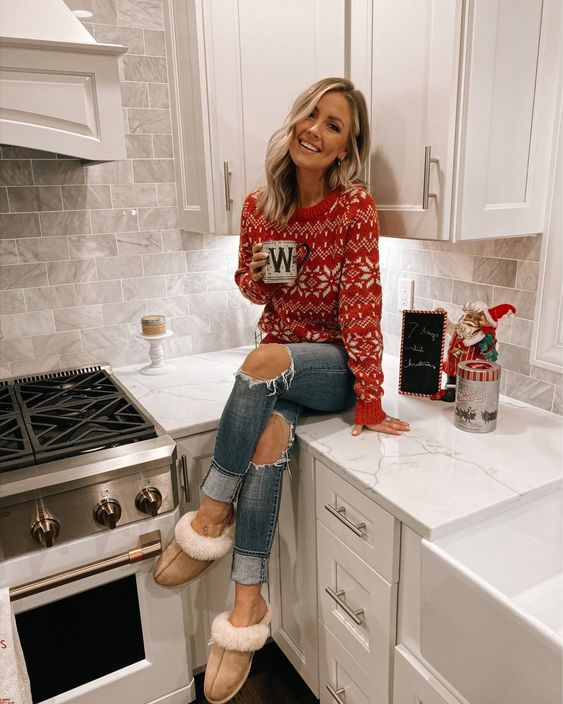 Enjoy Christmas being as comfortable as you can in a cute (and not ugly) Christmas sweater paired with casual jeans and slippers.
This is such a great outfit for any teenage girl who is staying home and looking to be as comfy as possible this holiday.
Christmas Scarf Outfit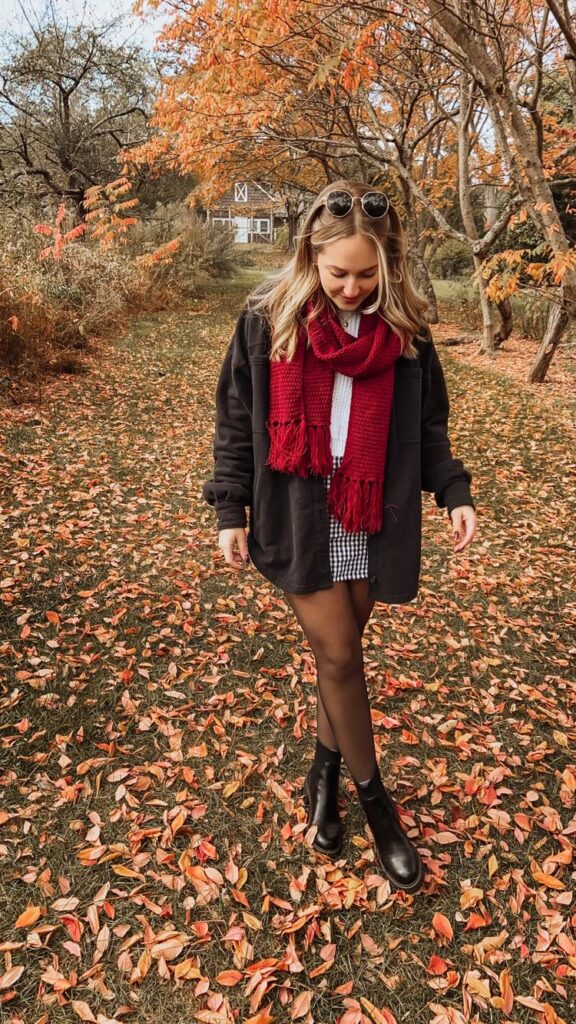 If you're looking to just add a small pop of color to your Christmas outfit, try adding in a red scarf!
We love how versatile and easy to put together this outfit is and all it needs is the red knit scarf to really make it pop for Christmas.
You can get the red knit scarf from Amazon for only $11!
Christmas Winter Hat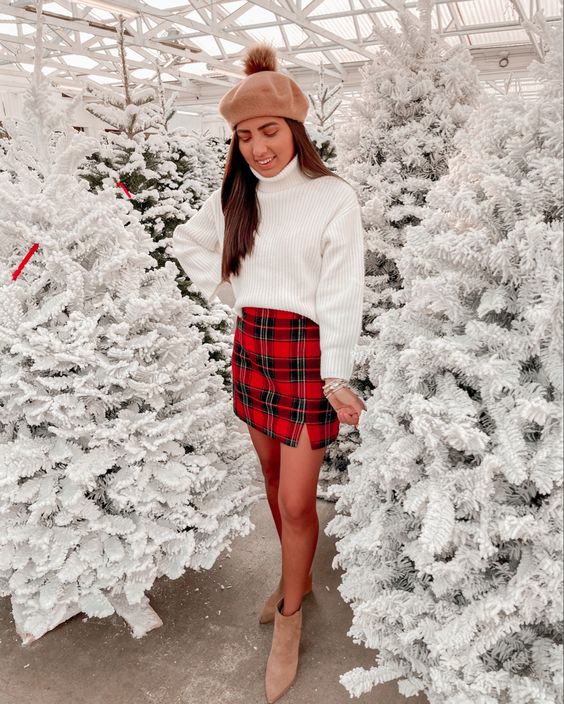 We're loving a turtleneck sweater and plaid skirt combination as a Christmas outfit for teenage girls but when you add a winter hat to it, we're obsessed.
A Christmas inspired outfit with a hat is the perfect Christmas look that everyone will be wishing they wore this year as well.
Red Turtleneck Christmas Dress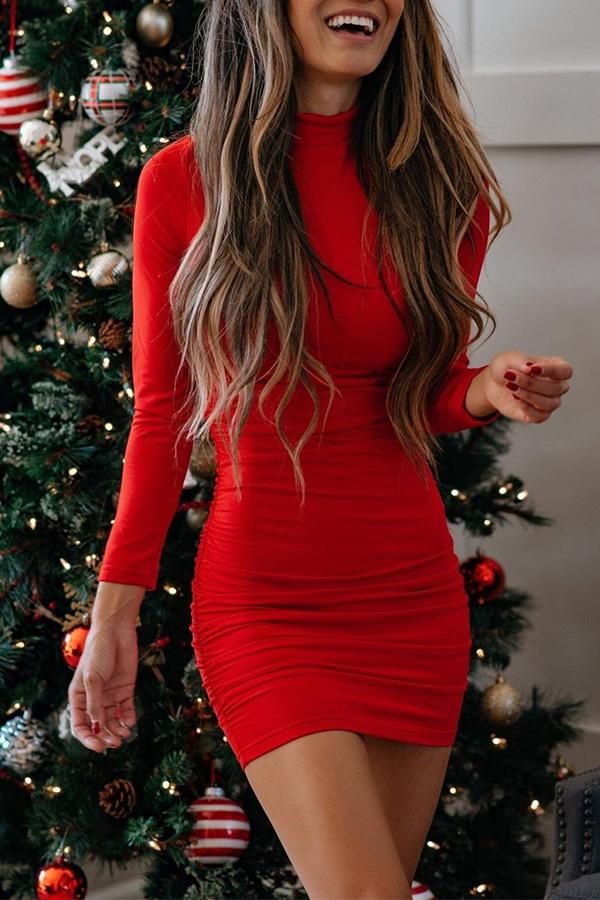 One of the trendiest Christmas outfits for teenage girls is a simple red dress, specifically a long-sleeve, turtleneck dress!
Related Post: 20 Stylish Winter Outfits for Teenage Girls
Olive Green Leggings Outfit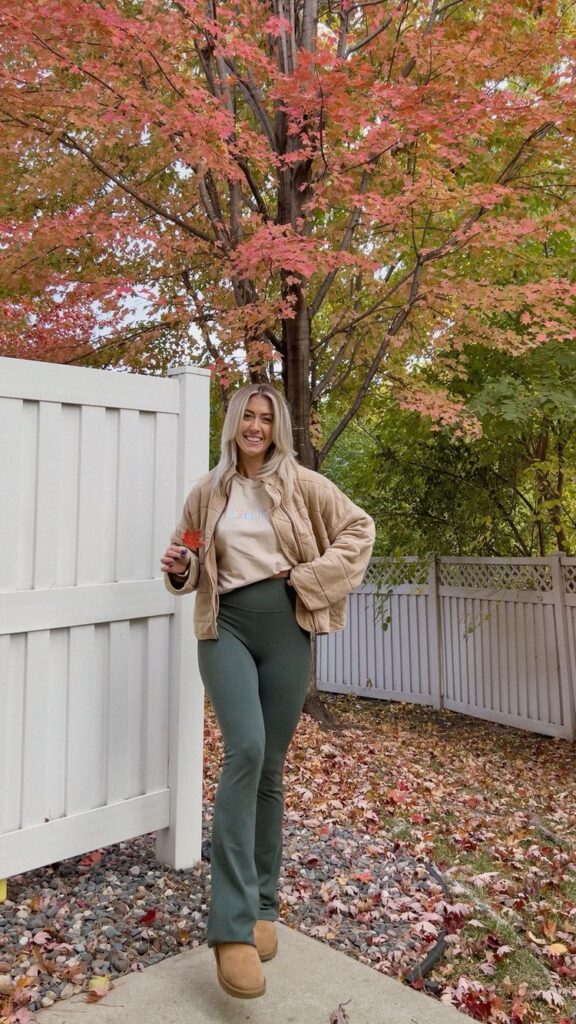 Keep it casual and comfy with an outfit you'll never want to take off.
This olive green leggings Christmas outfit is perfect for any teenage girl who just wants to keep things simple this holiday season.
Preppy Holiday Outfit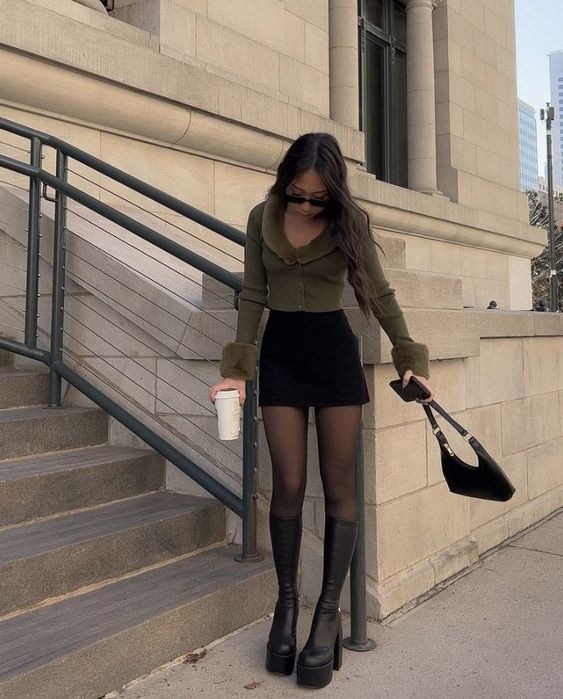 For a pretty and preppy holiday outfit idea, try this super cute and trendy look featuring a micro fur-trimmed green sweater, mini-skirt, and knee high boots.
Tights and knee high boots have been one of the trendiest outfits on social media this year so you already know this outfit is a hit for Christmas.
Turtleneck Sweater & Skirt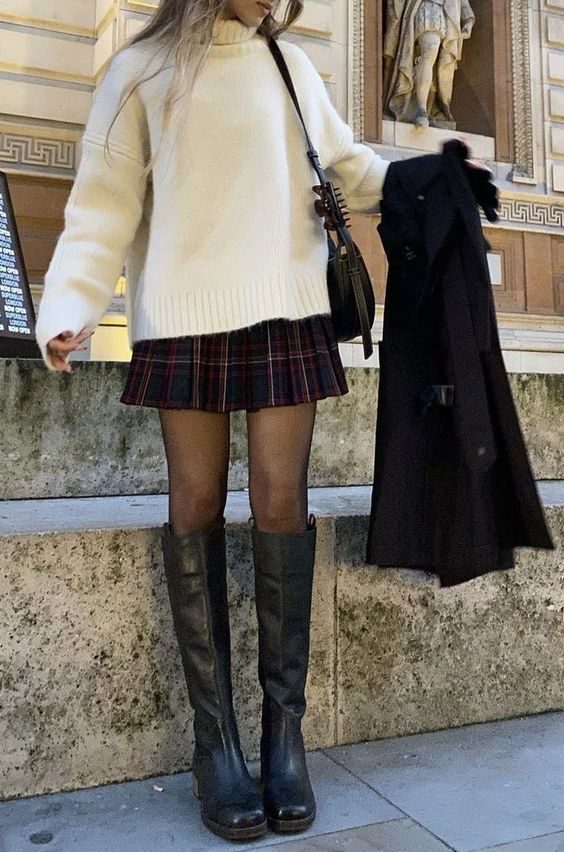 We love how simple and effective this outfit is, especially knowing how easy it is to put together.
All you need is a white turtleneck sweater, plaid skirt, and a pair of black boots!
Boho Holiday Outfit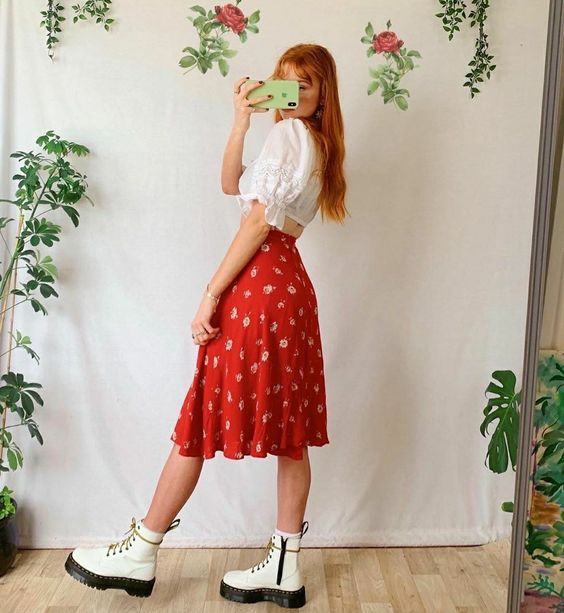 If you're looking for a trendy and feminine Christmas outfit for teenage girls, then look no further!
We love how the white blouse, red and white midi-skirt, and white boots create the perfect holiday outfit without having to specifically buy Christmas themed clothing.
This outfit can easily be put together from what's already in your closet!
Funky Green Christmas Outfit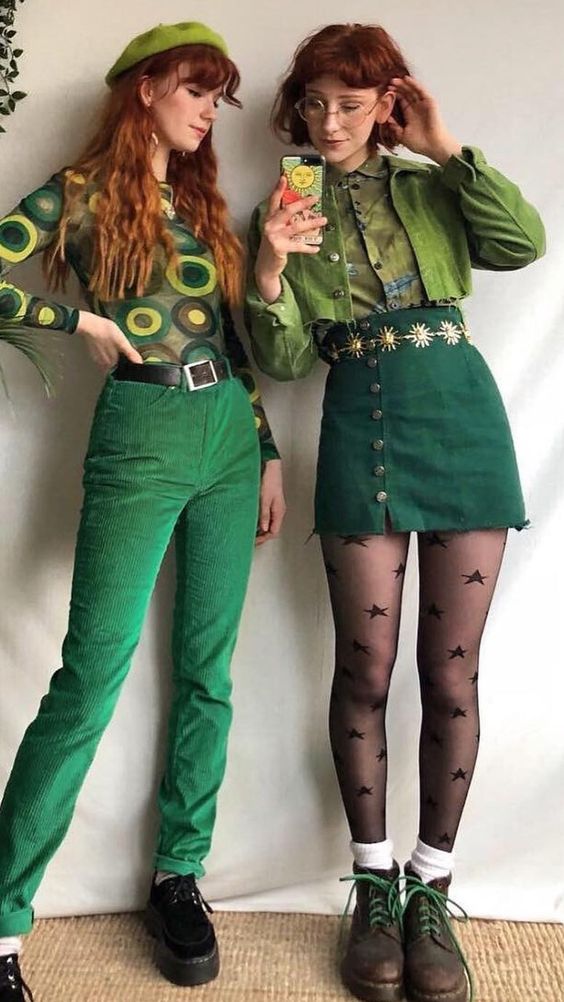 Keep things fun and funky this Christmas with a 70's inspired outfit you'll actually love.
This retro inspired outfit will make you the queen of green, but in the coolest way possible.
Green Wrap Skirt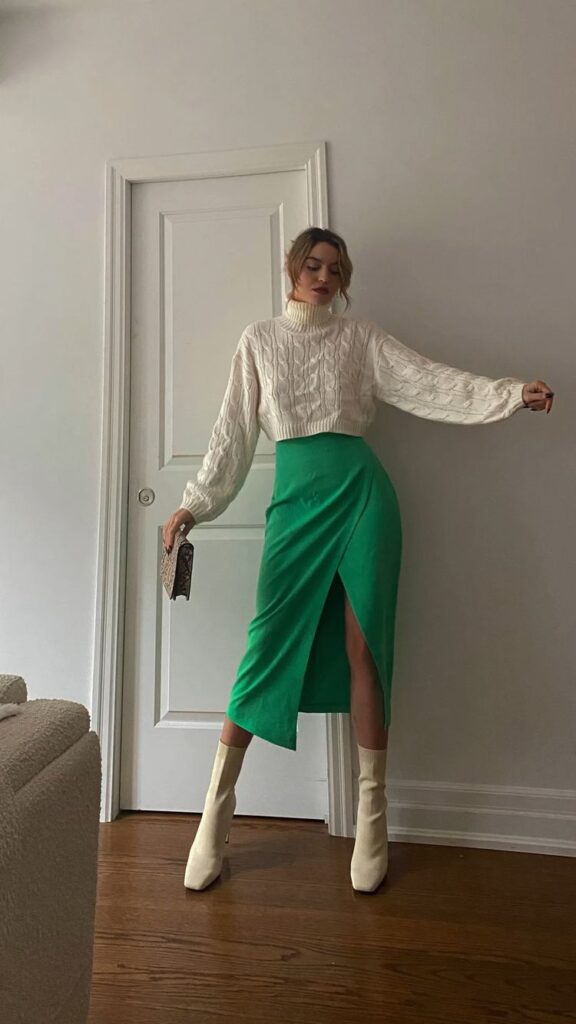 Wrap yourself in the Christmas spirit with this gorgeous green wrap skirt and chunky sweater outfit.
We love how cute and trendy this outfit is and how well it pulls together the feeling of Christmas with the use of a simple sweater, skirt, and boots.
Neutral Holiday Outfit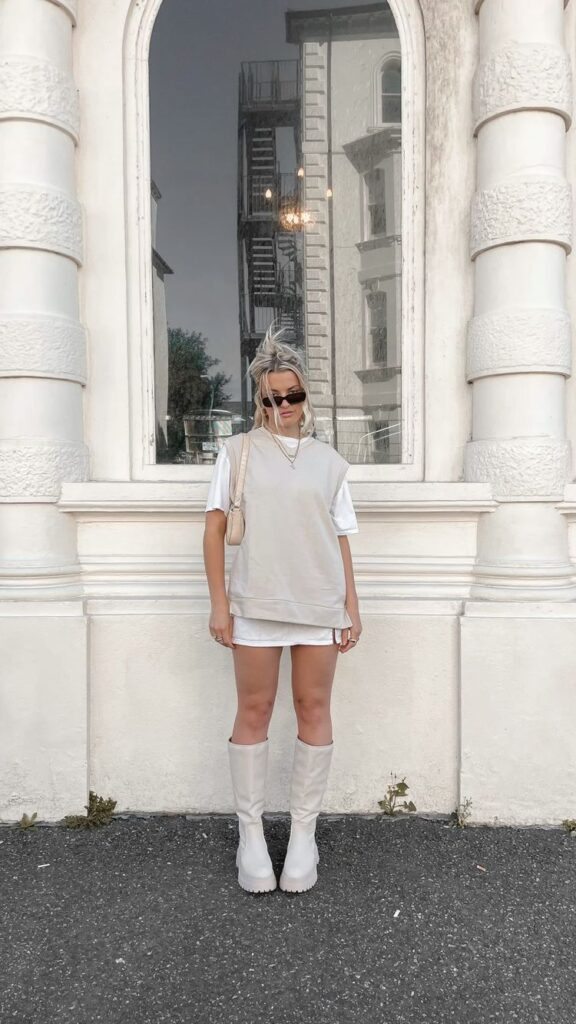 Go for neutral this Holiday season for a trendy and stylish Christmas outfit.
We love how the beige and whites create a simple yet fashionable outfit that you can rock all year round.
Related Post: 15 Popular Shoes for Teenage Girls
Queen of Christmas Green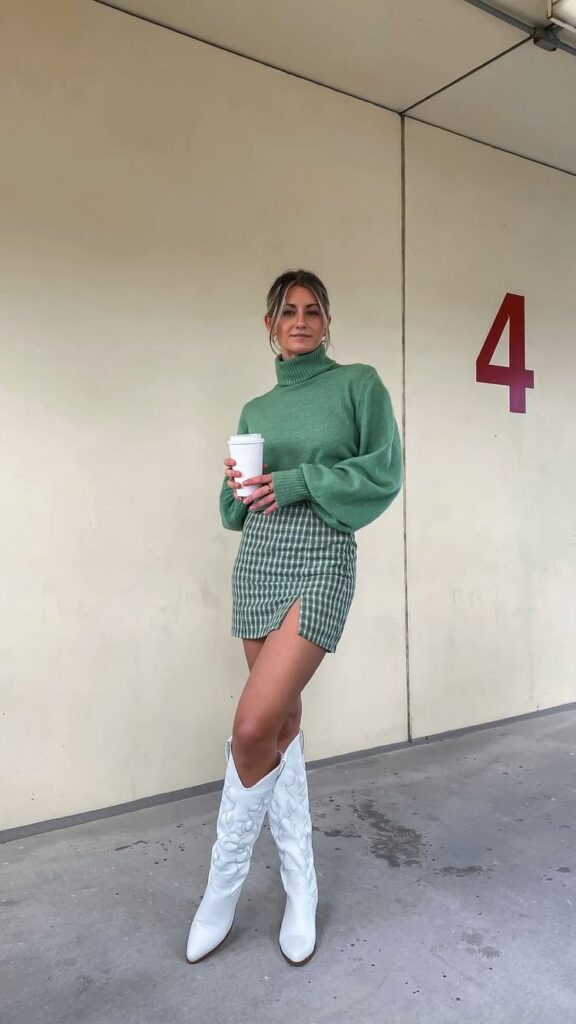 Be the queen of Christmas green in this all green outfit paired with white cowboy boots.
When you put the two together, you get the perfect Pinterest worthy Christmas outfit for teenage girls.
Green Houndstooth Sweater Dress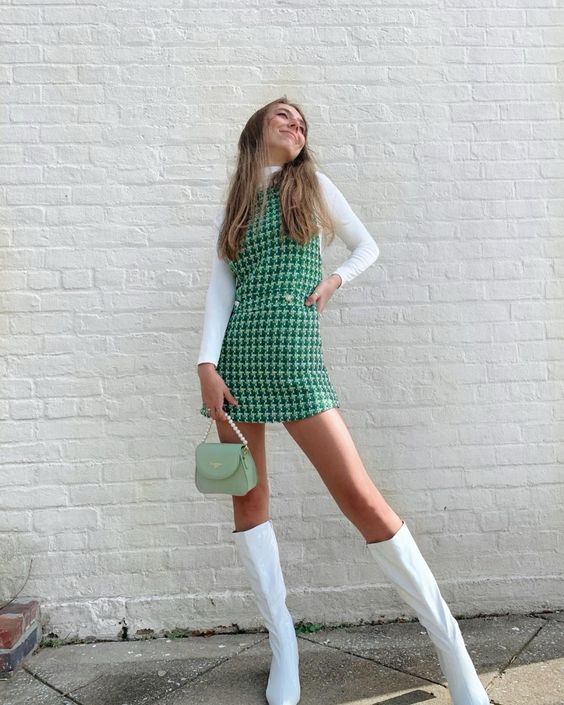 We are currently obsessed with anything houndstooth and this sweater dress is truly perfect.
This Christmas dress is the perfect addition to any teenage girl's closet and can be worn all year round, depending on how you style it.
Red Velvet Christmas Dress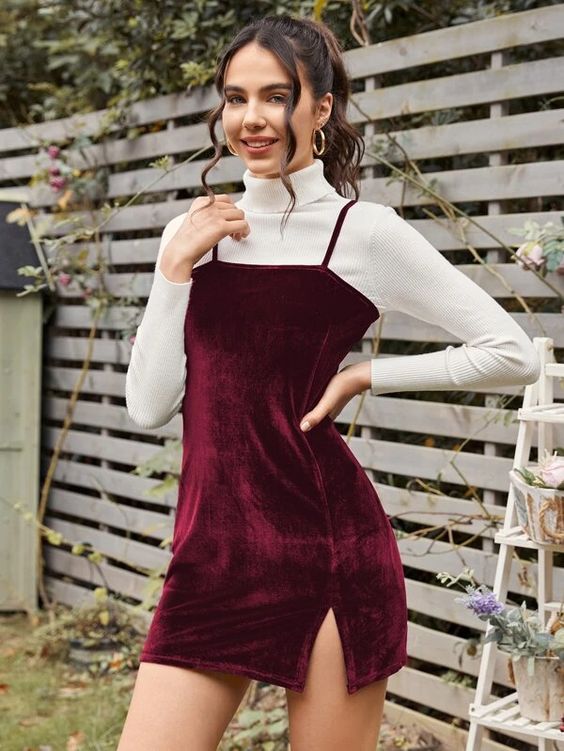 Nothing feels more like the Holidays than a velvet red dress.
Try getting this red velvet dress and pairing it on top of this white turtleneck for an outfit you'll want to wear every holiday season.
It's one of the best Christmas outfits for teenage girls!
Retro Christmas Sweater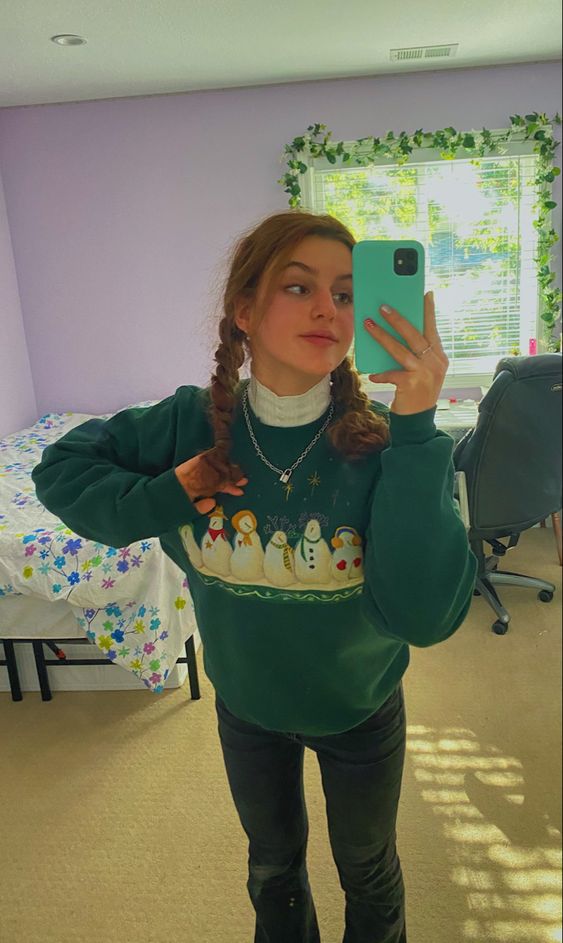 Who said you have to wear a dress this Christmas season? Not us!
The classic retro Christmas Sweater is one of our favorite pieces of clothing to wear during the holiday season, especially with matching pants.
You can easily find a retro Christmas sweater at your local thrift store or Target!
Christmas Overall Dress
An overall dress should be in every teenage girl's closet and if it isn't in yours, you need to add this to your cart ASAP.
This cute and trendy dress is perfect for Christmas and looks even cuter when paired with a hat.
Moose Print Overall Jumper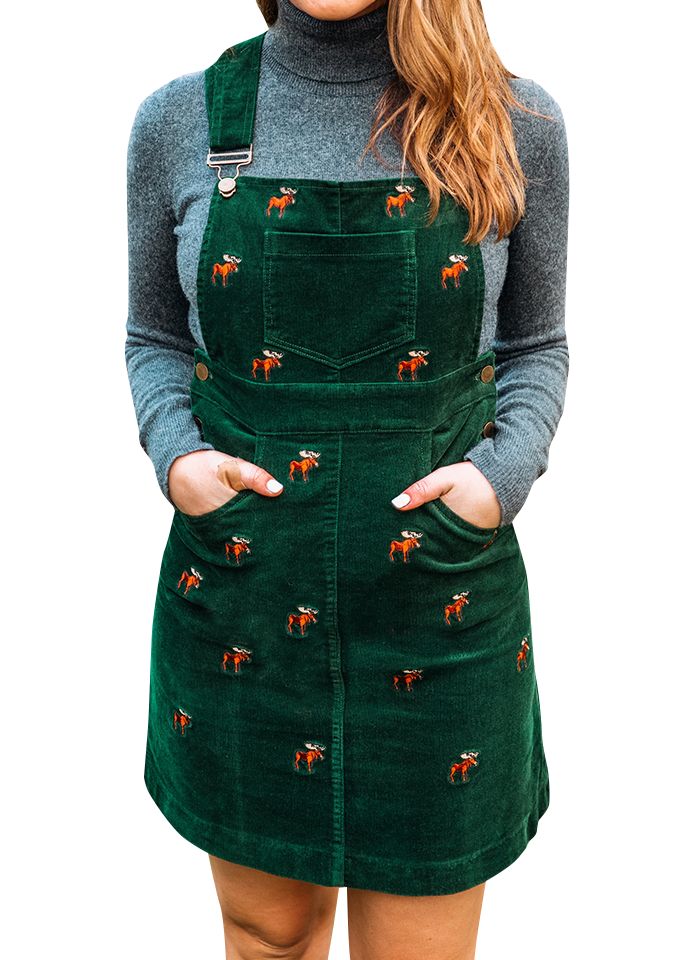 If you want to go all out this Christmas season, then you need to get this moose corduroy overall dress.
Although this dress is a bit more expensive, we're obsessed with how the moose print on top of the green corduroy creates the cutest Christmas dress we've ever seen.
Green Pleather Blazer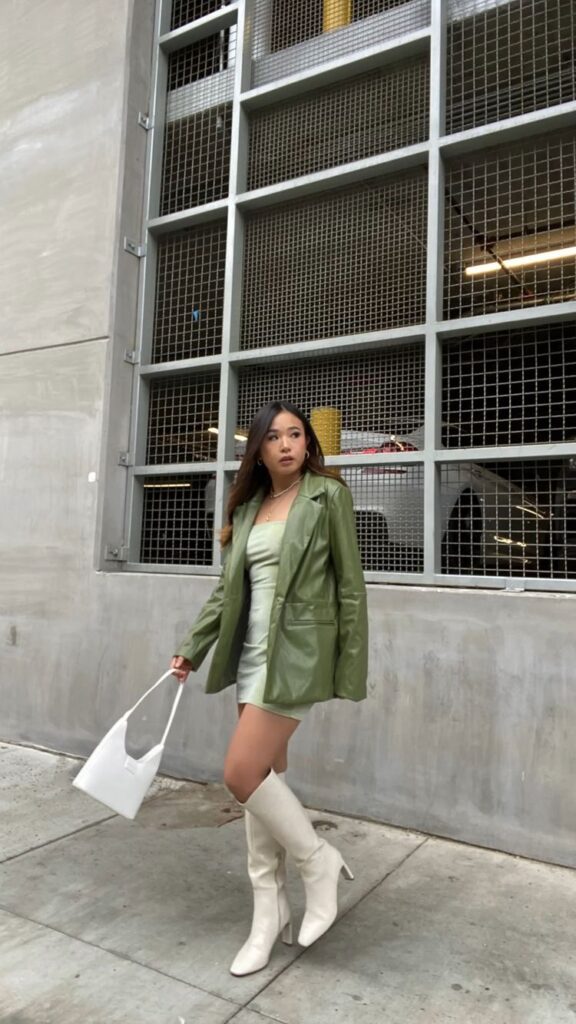 Get all dressed up and take cute Christmas outfit pics this Holiday season with an outfit that you'll be posting all over Instagram and Pinterest.
This Green Pleather Blazer is one of the most fashionable items you can add to your closet and when paired with a dress and boots, you'll be killing the fashion game.
Green & White Flannel Shacket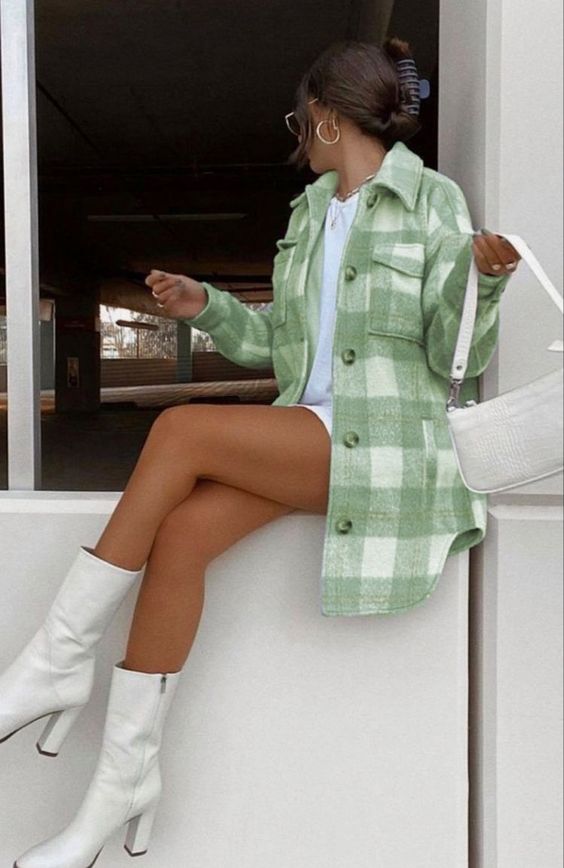 Shackets are easily our favorite piece of clothing during the winter since they're so versatile and trendy.
This Christmas, try adding a green flannel shacket to your closet for an outfit you'll want to wear all winter long!
Related Post: 60 Best Hairstyles for Teenage Girls
Oversized Sweater & Boots
Keep things simple and easy this holiday season with a Christmas Outfit that you can throw together in minutes.
With an oversized green sweater and your favorite pair of cowboy boots, you easily have the perfect Christmas outfit.
Red Leather Pants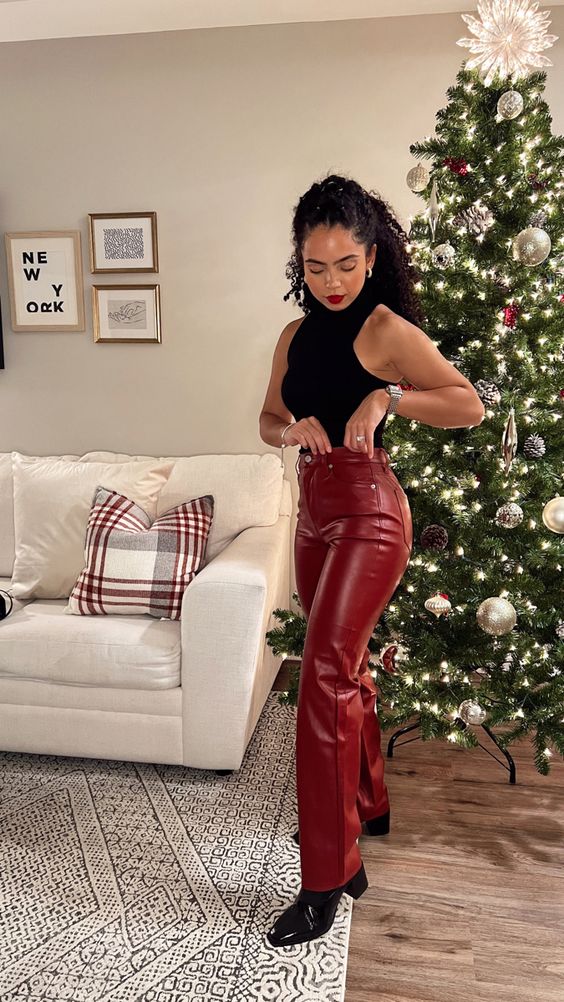 Leather pants are one of the biggest trends to come from TikTok, especially in the Fall and Winter.
So why not add a pair of red leather pants to your Christmas outfit?
Trendy Green Trousers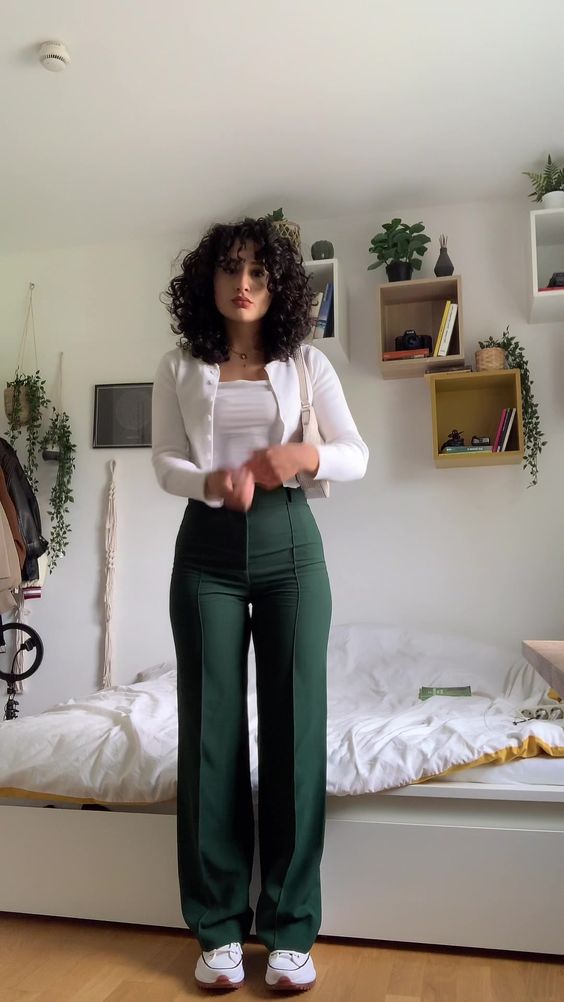 Add a pair of trendy trousers to your holiday wardrobe this Christmas season.
These olive green trousers are a great way to stay comfortable while still looking cute this Christmas.
Hopefully these 25 Christmas outfits for teenage girls gave you some inspiration for what to wear this holiday season.
Which outfit are you going with?
If you have any comments, questions, or suggestions leave them down below. Thanks for reading!