Looking for new fashion ideas as the summer is coming up? Here are 10 stylish summer fashion trends for teenage girls in 2022!
Summer is just around the corner and if you are looking to spruce up your summer wardrobe, we've got just the thing you need…
As is the nature of fashion, it keeps going in a cycle. Yet the loop continually evolves. As a result, we have a mix of classic trends coupled with some latest fads to make 2022 summer fashion unique than ever.
Read on to look at the trends and also to spot celebrities who are rocking these styles.
Muted Florals
View this post on Instagram
Yes, florals and summer. Pretty genius spot, I know. But hear me out. It's not exactly florals, but the colors of the flora that we're talking about.
Pink, lavender, green, and yellow. What's more, we are seeing these colors in muted shades. Way muted.
These shades are appearing on clothes, shoes, bags, accessories, and everything in between. You can choose a single shade for a monochromatic look or mix and match with patterns, ala Millie Bobbie Brown, for more variety.
Definitely add these colors to your wardrobe as the new 2022 fashion trends for teenage girls are coming in!
Graphic Chic
View this post on Instagram
There's something about a graphic tee that's just eye-popping. Wear one and you immediately elevate your look. Over the years, we've seen graphic tees transforming from a simple street look to a red carpet appearance.
This summer, graphic tees are going to be everywhere. But if you don't want to make your look too common, go for a unique graphic image on your tee and claim your space.
Certain graphic design companies allow you to choose a unique image and print it on your tees.
Oversized Classics
View this post on Instagram
Oversized clothing is an absolute classic. Oversized tees, hoodies, or jumpers can give your simple jeans an instant facelift.
You can also pair them with shorts, leggings, and skirts. The overall effect is always cute.
While oversized clothing is mostly a casual and cute affair, if you put on some make-up and show your hair some love, a really nice oversized sweatshirt can also be good for a second or third date.
I've definitely seen more than a few girls rocking an oversized tee on Zoom meetings, as well.
Related Post: Daily Routine for Teenage Girls
Statement Sleeves
View this post on Instagram
Add drama to your wardrobe by investing in statement sleeves. These sleeves can be a part of a piece of formal attire or a cute top that you want to sport on a planned girls' night out.
Statement sleeves are a trend from the 80s that's been receiving a seriously warm welcome from the 2022 fashion.
We've seen celebrities and fashionistas proudly showing off their puffy-sleeved dresses all over their Insta.
If you also wish to take part in this trend and aren't afraid to draw attention to yourself, think of sleeves with cut-out designs, ruffles, and embellishments.
Lots of embellishments. Off-the-shoulder dresses are the less dramatic version of this trend so if you want to start small, start there.
Wide-Legged Denim
View this post on Instagram
Wide-legged denim is one of the best summer fashion trends for teenage girls! It's easy, casual, and perfect for most outfits. But our most favorite denim style – skinny jeans – is going to take a well-earned rest.
This year, we see mom jeans making a comeback. These boot cut jeans, wide-legged beauties are everywhere: on street, on social media, and even on runways.
Make your mom jeans an integral part of your summer wardrobe. Pair them with white tops, large blazers, or some eye-popping blouses. This fresh style is not only totally appealing but oh-so-comfy, too.
Blazer Dresses
View this post on Instagram
Zendaya has officially launched the trend for blazer dresses. It's perfect for teen fashion because it toes the line between fashion and flirt quite wonderfully. The first look of a great blazer dress is eye-popping.
These dresses look even more brilliant when they are in rich, saturated hues. Think of green, plum, and rich pink.
Sequins will also make your blazer dress even more striking. Tights also go with them but for the most effect, let your blazer be the sole piece.
Related Post: Full Body Workout for Teenagers at Home
Bright Suits
View this post on Instagram
Nobody said your professional suit needs a boring neutral. If anything, it needs to be even brighter to help you take charge of the room as soon as you enter.
There's literally no reason why your pantsuit needs to be muted.
We say go big and go bright!
Breathable Linen Pants
Look, fashion doesn't have to be uncomfortable. Nor your loungewear needs to be boring. So, balance comfort with style with some linen pants or fashionable khakis to elevate your everyday look.
You can pair them with sneakers or some nice kitten heels for a great street style.
If you want your linen pants to be with you as part of your special evening outfit, an embroidered top will look really cute with them.
An All-White Ensemble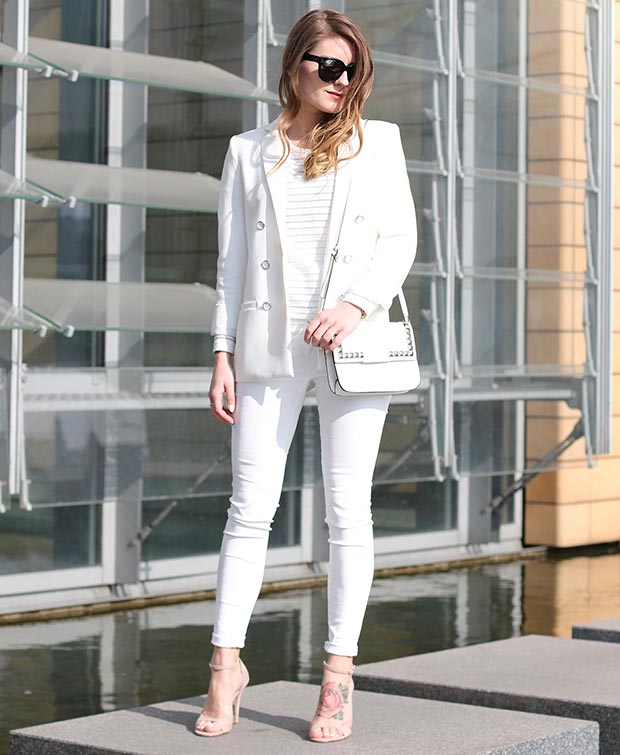 What is it with summers and an all-white outfit that makes the two a match made in fashion heaven? Perhaps it's the coolness of white that offsets the summer heat? Or how this neutral shade gives a feeling of calm when the sun is testing your patience?
Whatever it is, online fashion feeds are getting populated with teen celebrities sporting an all-white look as they welcome the early days of summer.
Bucket Hats
View this post on Instagram
If you see a lot of bucket hats surrounding your Insta feed, you have Emily in Paris to thank for that. Lily Collins' stylish presentation of bucket hats has made it a hot fashionable item.
So, if you are looking to amp up your spring and summer style this season, a bucket hat can be an easy pick.
From dresses to tees and from skirts to jumpers, a bucket hat will tie your whole look together. They are great in pastels and equally great in neon and other bright colors.
But, if you rather play it safe at first, a classic black or a buttery brown is a great start.
Wrap it Up
Now your shopping list for your summer wardrobe is almost sorted. Just find some accessories to go with these styles for the perfect finish to your outfit.
Hopefully these 10 summer fashion trends for teenage girls have helped you find the right inspiration in 2022!
If you have any comments, questions, or suggestions leave them down below. Thanks for reading!