Moving into your college dorm soon? You'll need a place to sit! Here are the 10 best dorm room chairs for your comfy lounging!
Now that you're in college, you'll get to enjoy all the excitement of hanging out with your friends in dorms or just kicking back and relaxing in your own space!
Make sure you and your friends all have a comfy place to sit when you're in your room!
What Makes For The Best Dorm Room Chairs?
The best dorm room chairs have a few key features:
Functional – Can it do all the things you need it to do? (Folding, back support, lounging, desk use, etc.)
Size – Can it fit inside a dorm room that's already small?
Comfort – Can you sit in it for long hours of studying, reading, or watching videos?
Price – Is it within a college budget? Will it last a long time for its price?
Extra Features – Oversized, bean bag, convertible flip chair, portable, etc.
These are the 5 factors that we used to determine which chair is best for college students in their dorm.
The most important feature of all though is to make sure it is comfy! Comfort goes a long way in the dorms!
Why Do I Need A Good Dorm Room Chair for College in 2023?
The truth is…
Many dorms do not provide a good chair, and if they do, they're usually old, bulky, and super uncomfortable.
The benefits of getting to choose your own chair that fits your own preferences is extremely valuable.
It's especially worth it if you're going to be spending hours in a chair!
So make your space comfy and practical with the perfect dorm chair. Take a look at some of these options.
Related Post: Best Fans for Dorm Rooms
Best Dorm Room Chairs
These chairs range in size, features, colors, and more.
You will find chairs that are foldable, convertible, bean bag style, small, oversized, spinning, and everything in between!
Check it out…
The Urban Shop Soft Folding Chair is the ultimate versatile and functional dorm chair.
Perfect for lounging, reading, studying, or hanging out with friends, this chair can be used for almost everything.
Plus, it will be comfortable the entire time!
Coming in more than 10 different colors, this folding chair is the perfect space saving item that can help you completely personalize your dorm.
It will surely fit your aesthetic and it's priced under $50!
One of the reasons we love this chair so much is that its folding feature can help create more space in your dorm room.
That way, you can have more friends over or do yoga right in the middle without worrying about big furniture in your way.
So you want a dorm room chair that will be comfy for hours on end? Well then look no further!
This chair cushion is one of the best dorm room chairs for lounging with your friends, reading a book, or watching TikTok all day long.
With over 15 colors and three different sizes, this oversized chair can bring your college dorm room to life and match the design style you've always dreamt of!
Lay back, sink in, and relax in the cozy comfort of the Papasan Chair Cushion, but be careful because it might suck you in for hours!
The Modern Fabric Comfy Chair is one of our top picks for college dorm chairs for guys or girls.
Not only can this be used at your desk, but you can also use it for gaming, hanging with friends, or studying.
Functionality meets style with hidden storage located in this comfy chair, so you'll never lose your tablet, favorite book, or notebook in your dorm again!
With an easy to assemble design, you'll be lounging in no time in your new favorite chair.
Related Post: Best Coffee Makers for Dorm Rooms
We have finally found the best rotating dorm room chair and it's the Giantex 360 degree swivel gaming chair!
Not only is this chair super comfy and plush, but it can be moved 360 degrees so you'll never need to manually move it around again.
Hanging out with friends and gaming has never been so easy, or comfortable. Plus, it comes in 5 different colors so you can be sure it matches your dorm perfectly.
With a 5 position adjustable backrest, be sure to really lean into your new favorite dorm chair.
Ready to lounge with friends in your new bean bag dorm chair? Nothing quite says kick-back and relax like a bean bag.
With 15 different colors to choose from and under $70, this bean bag is perfect for hanging out with friends, studying, gaming, or just doing your own thing, in your own space.
The best part is you can be in this for hours and even take naps in it – that's how comfy it is!
But don't nap for too long – you might miss class!
If you're looking for a bean bag chair with a bit more structure and support, this Milano Plush Chair is perfect for you!
At under $60, this chair has the plush, comfort, and soft material to make you want to stay in it all day.
With it's lightweight feature and small size, you can move this chair anywhere in your room for whatever your needs are.
Pull up a side table and your laptop to create an incredible study oasis right in the middle of your college dorm room.
Related Post: 10 College Dorm Room Essentials for Students
Save space in your dorm without sacrificing style or comfort in this Foldable Faux Fur Saucer Chair, perfect for girls' dorm rooms!
This foldable chair easily tucks away when you're not using it so you don't have to worry about one more piece of bulky furniture in your college dorm.
At under $55, this chair is soft, comfy, and sturdy – what more could you want?
Check out the lavender + gold color combination to have the best looking chair on campus!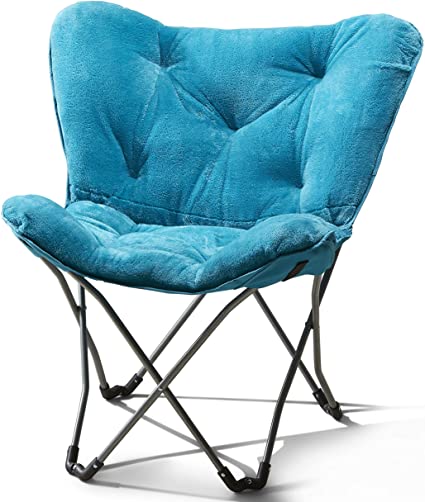 Affordability meets functionality with the Butterfly Dorm Chair.
This is one of the best folding dorm room chairs that can be used for studying at your desk, watching tv, or surfing social media on your phone.
And don't let the price tag mislead you! This affordable dorm chair does not skimp on comfort or style.
The best part is its folding feature and lightweight size. You can carry this chair into other dorms for movie or game nights with friends!
No more sitting on floors for you.
Space is limited in your college room, but that doesn't mean your comfort needs to be limited too!
This 14-Position Memory Foam Floor Chair is small, comfy, and ready for hours of use!
Binge watch your favorite show or study for your next exam in this chair and be pleasantly surprised about just how comfy you really are.
It can be pushed up against any wall to face a tv, monitor, or friend while you're having a conversation.
Perfect for both guys and girls, this dorm chair can be used in 14 different positions (including a nap position).
It also comes in 5 different colors so it is sure to match any college dorm room design!
Related Post: 15 Cool Dorm Room Ideas for Guys
A chair that is foldable, comfy, and functional is key to a great college dorm room chair, so why not choose one that can even be turned into a bed?
This Convertible Sleeper Dorm Bed Chair can flip into a chair or bed in a matter of seconds!
No more worrying about where people can sit when they come to your dorm.
Just convert this into a bed to make a seating bench for three people. You can also fold it back into a single chair if it's just you and a friend.

The options for this chair are endless which makes it one of our favorite new best dorm room chairs!
Hopefully these chairs gave you a few great options for your dorm room. Each chair is different, but serves a purpose depending on your needs.
If you have any comments, questions, or suggestions leave them down below. Thanks for reading!